Green Schools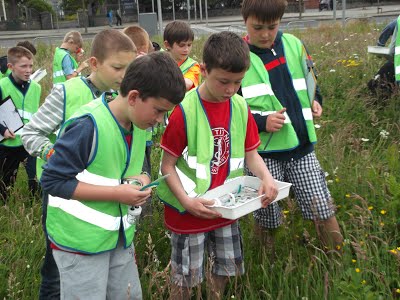 What is Green-Schools?
Green-Schools, known internationally as Eco-Schools, is an international environmental education programme, environmental management system and award scheme that promotes and acknowledges long-term, whole school action for the environment.
First Green Flag: Energy and Waste ● We now have a green bin and a waste bin in classrooms. ● We no longer take our lunch out onto the yard. ● We collect old mobile phones and batteries to be recycled. ● We have a large electrical recycling box. ● We also have a pink bin for recycling old clothes. ● We have been working on the Energy theme. ● For this we had to do an Environmental review and develop an Action Plan. ● We were visited by a member of An Taisce and the Sustainable Energy Authority of Ireland gave us posters and books to promote energy awareness in our schoool. ● The company Veolia are helping to monitor and evaluate our energy costs.
Environmental Review ● We started with an Energy Use Survey. ● Conducted an Appliance Audit. ● Carried out a Standby Survey. ● Visited the boiler room to learn where and how the meter readings were taken. Thank you to Paul our school caretaker. ● Took indoor and outdoor temperatures for a month and compared yearly. ● Sent questionnaires home to a group of parents from each year group and reviewed the results.
Energy Saving actions taken so far by Scoil Mhuire ● Scoil Mhuire has energy efficient light bulbs installed in classrooms. ● Photocopier has an energy saving mode used by staff ● Doors are closed after breaks by the Sixth class pupils ● L.O.L.O. Posters in rooms remind children that Last Out Lights Out ● Thermometers have been placed on room walls so temperature can be noted. ● Conversion from oil to gas is expected to reduce our energy costs significantly in the future. ● All radiators in Scoil Mhuire have a thermostatic device which can be altered depending on the temperature ● VEOLIA send school monthly reports monitoring our Energy Consumption. ● An Energy monitor outside secretary's office displays daily consumption of energy
Saving Energy at School In school we need to make sure that doors are kept closed. We need to make sure we turn off the lights when we leave the classrooms. We can also turn off all electrical appliances we are not using. We need to remember to switch off computers in the computer room. Radiators can be adjusted using the thermostatic devices.
Low-Energy Day For Low-Energy Day we switched off all the lights and turned off electrical appliances to create an awareness of the amount of energy we use. Second classes learned about Guzzler. They learned about things they can do to help save energy.
Lights out - CHECK
Electrical appliances off - CHECK
Doors closed - CHECK
Heating lowered - CHECK
How you can help to save Energy at home....some ideas!!!! ● Making an Energy Pledge ● Always turn off lights when not in use ● Turn off electrical appliances you are not using ● Switch things off instead of leaving on standby ● Turn down the heating when the weather is warmer
Where to now? Scoil Mhuire has made lots of progress with regards to reducing our energy consumption but we still have a lot to do. Continued effort needed by everybody- pupils, teachers, all members of school staff and our families to help to look after our planet
"Humankind has not woven the web of life. We are but one thread within it, whatever we do to the world, we do to ourselves" - Chief Seattle
Green Schools Codes
An acrostic poem written by Cian Stanley, 2nd Class, 2012
Rubbish, waste, sort it out,
Everyone recycle hear us shout,
Cans, plastic, batteries and paper,
You should recycle now not later,
Come on Scoil Mhuire, let's do our part,
Let's get together,
Everyone going green is smart.
ENERGY GREEN CODE by Alan McGowan and Milo O'Reilly, 4th Class, 2015

(SONG)

Last Out!
Last Out Lights Out,
Last Out, Lights Out, Lights Out,
Last Out, Lights Out,
Last Out, Lights Out.
That's the way it goes!

Close the windows,
Shut the door,
Turn off the lights,
You got to do no more.

Save Energy in Scoil Mhuire,
Save Energy in Scoil Mhuire,
Save Energy in Scoil Mhuire,
That's how the school turns Green.
Scoil Mhuire CBS, Griffith Avenue, Dublin 9 | Phone: (01) 8336421