School Choir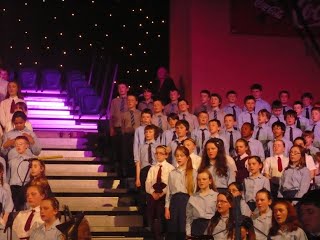 School Choir
Each year, boys from 4th and 5th class come together to sing for the Confirmation and Holy Communion ceremonies. They sing a beautiful selection of hymns, both old and new. This year, the choir consists of boys from 4th and 5th class under the guidance of Ms. Stapleton and Ms. Hodnett.
National Children's Choir 2010/2011:
Boys from 4th and 5th class took part in Cór Náisiúnta na nÓg. We began in October and learned a repertoire of seventeen songs ranging from Mozart and Michael Jackson to traditional Irish. The boys travelled to other schools to rehearse and performed in the National Basketball Arena with other schools from Leinster. A small selection was then sung by our boys in the National Concert Hall, along with children from all over Ireland. The NCC runs every two years and we hope to have another successful year in 2012/2013.
"Many boys from Scoil Mhuire Marino have been singing with the National Children's Choir. I am one of those lucky boys who has been training very hard…We have learnt many a great song, one of which was the brilliant 'Ave Verum' by Mozart. During the experience we have been going to other schools to learn what being in a choir is like. On the 28th-30th of May 2011 we went to the National Basketball Arena to sing in a huge concert. It was BRILLIANT!" -
By Adam Peat aged 11 (2011)
NCC 2012/2013
In 2012/2013, four classes performed with the National Children's Choir in the National Basketball Arena. They learnt a very challenging repertoire with two, three and sometimes four part harmonies. The boys spent one of their two weekly music classes with the school's music teacher learning the new songs. By visiting
http://www.nationalchildrenschoir.org/
, you can find out more about the National Children's Choir.
Scoil Mhuire CBS, Griffith Avenue, Dublin 9 | Phone: (01) 8336421