Multi-sensory ways to practise spelling at home
Multi-sensory ways to practise spelling at home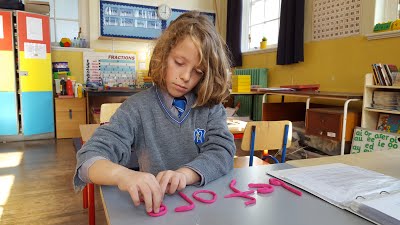 Spellings at Home
Learning spellings can be a laborious task for some children, especially children who experience difficulty in this area. This in turn can cause stress in the household when that time of day to learn the spellings comes around. However learning spellings doesn't have to be boring or laborious. Indeed it can be fun and creative. Most people fall into 3 main learner categories (or in reality a combination of the 3 below):
Visual - They learn better using visuals, images, pictures, flow diagrams etc.
Auditory - They learn well through hearing sounds
Kinaesthetic - They learn by doing
By combining all three learning styles and making the experience multi-sensory, there is a better chance that the learning outcome will be more successful. The below techniques are fun, multi-sensory ways to help your child to learn spellings at home.
Use clay, play dough, pasta, blocks to spell out the word
Trace word in flour, salt, sand tray
Use magnetic letters
Finger paint the letters / stamp the letters with finger prints
Type it in different font colours, sizes and faces in MS Word or on the i-Pad equivalent
Read aloud, underline, say three times
Look, cover, copy on to a whiteboard/page/chalkboard
Look, cover, draw in air
Look, cover, trace on somebody's back
Doing regular tasks like this for a few minutes daily can help a great deal with spelling over time. The most important spellings to tackle first are the Dolch words (220 words that occur in texts with high frequency). The Dolch lists are attached below. By conquering the Dolch words (many of which are non-phonetic), the standard of a child's independent reading and writing can improve significantly. It's a great place to start.
Scoil Mhuire CBS, Griffith Avenue, Dublin 9 | Phone: (01) 8336421