Be Active Club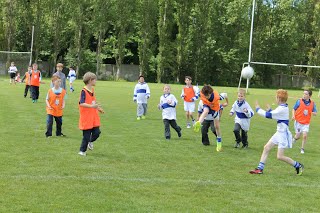 As a school with a huge grá for sport we decided to apply for an active school flag! We were awarded an Active Schools Flag in June 2015. The Active School Flag is awarded to schools that:
Adhere to DES guidelines regarding PE timetable provision for all students
Teach a broad and balanced PE curriculum
Inform and invite the whole school community to participate in the ASF process
Self-evaluate current provision in terms of PE, Physical Activity and Partnerships
Plan, implement and monitor improvements for each of the aforementioned areas
Organise an 'Active School Week' as part of the annual school calendar
We have set up a committee of teachers, children, non-teaching staff members and parents. Bizzy Breaks has been introduced which helps children stay active even on wet days! DEAD (Drop Everything and Dance) encourages active lessons! We love it and it is great fun listening and dancing to our new song during school!! We have even started games before school. Scoil Mhuire is now even more active than before!! Remember our motto -
Operation Activation!
Scoil Mhuire CBS, Griffith Avenue, Dublin 9 | Phone: (01) 8336421